test tube news ~ #012 ~ nov 2007

NOVEMBER BLUES

Hello music lovers,

Wheeew! What a month! Hard to keep up for you probably, but you can take a break now because we will get back to normal for the next couple of months. Our regular schedule of 'one weekly release' will be maintained, at least for now. Nevertheless it was a fun month! Six excellent releases, completely free as always. I know it's difficult to keep up with our output lately, but just remember that all the releases are available at all times, through local downloads from our server. You can always come back and get what you've missed. Also, we're still pressing the DVD volume for you, if you'd rather have something physical on your shelf for future reference.

Now, 'what to expect this month', you're probably asking... well, just the regular high quality level of releases we're famous for. Next monday we'll start by an awesome album by one the newest artists to grace our family. Entia Non, born James McDougall, comes from the distant lands of Australia to bring us a mesmerising journey through waves of processed field recordings and ambient delicacies, with 'Distal'.

The difficult one-hundredth album.Yeah, next release is a round number. tube100. Yup... one hundred releases already. Sometimes I still can't believe it. More than three years of joyful work, putting out music that we love, hoping that someone out there will love it as we do. And we have come to this big number while enjoying a great time listening to such good stuff. We were thinking of doing something special for the 100th release, but unfortunately time is a difficult thing to master and sadly we didn't manage to put our ideas into actions and suddendly there were only two months left and it was already too late for the project to work. Damn it!
But we promise that by the 200th release we will do something big! Yeah, really big!

Anyway, the 100th release is something special as well. It's something that was long promised to this friend, Nuno Meneses. You might know it as Peach Boys, the alias he uses and will use with this next release, the 'Son of a Pitch' album. An album that was crafted with a physical release in mind since more than a couple of years back, intended for a mono¨cromatica release but never released for a number of reasons that are not important now, because we finally are putting it out, and free! We hope that you enjoy it as much as we did and still do.
The last two releases of november will be amazing too. Grifa Ambient Factory, or G.A.F. for short, is the brainchild of Macedonian born but Bosnian/Croatian of nationality Kurajica Mladen, bringing to test tube an unusual blend of pop ambient soundtracks with 'Atractores Extraños II'. Next, Polish Krzysztof Berg a.k.a. Krypton will grace us with a dreamy and ultra-nostalgic ambient masterpiece called 'Silent Drama'.

Enjoy the good stuff!

Peace,

'|
---
October 31, 2007
BIONIC TURTLES DIG TECHNO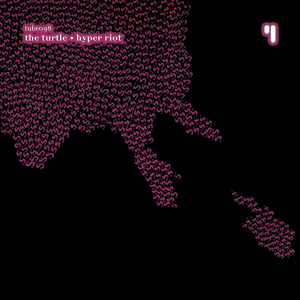 • tube'|098 - The Turtle - Hyper Riot

«Here's another one hailing from the United Kingdom. Jon Weinel is a native british musician and brings us this collection of tracks called 'Hyper Riot'. Jon reclaims his work to be mostly influenced by flashcore and breakcore, whatever the hell that is, but judging from his myspace there is a lot of stuff to be accounted for as well. It's not unusual to see Venetian Snares there on the list because that was one the few names that came to mind when I first listened to some of this tracks. There are a lot of threads to pick here, and they all connect to one another. There are references to Dubstep too, perhaps not on all of the tracks but I found some of the key elements both in the 'fast' tracks and in the 'slow' tracks. Speaking of which, the 'fast' tracks, the hardcore ones, are of course the shorter ones but they carry a lot of references inside them and sometimes they sound like two or three different pieces put together as they change tempo from start to end several times. 'Pacman's Psychedelic Meltdown' sounds exactly as it's called: a video-game soundtrack gone bad, too much bpm's resulting in the CPU's meltdown. A classic.
Halfway into the release and we get first contact with the ambient tracks, kind of like one of Jon's regular tracks stretched to its limits and spanned into five times the regular lenght. Slowed down hardcore for you experimental music lovers. 'At The Drive In Play Their Video-Games' is another electro pop classic, ready for the dancefloor. If you're into 8bit electro/techno and experimental psychedelic soundtracks, you'll love The Turtle and his 'Hyper Riot' release.» - Pedro Leitão

'|
---
October 25, 2007
"TRUE LONDONER DEATH NOISE"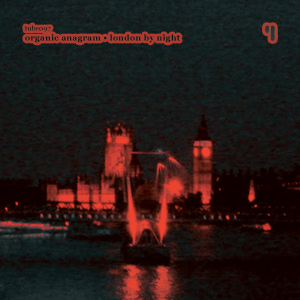 • tube'|097 - Organic Anagram - London By Night

«Please welcome our newest londoner, Miguel 'Chad' Meruje, who went from good ol' Portugal to Her Majesty's Kingdom to become a man. Miguel, under this Organic Anagram guise has been crafting some of the most unusual music one is likely to be listening to nowadays, crossing some experimental old school breaks with classic or dread piano strings, death noise and a weird 'film noir' atmosphere.
'London By Night' is a bit like a short movie, like a journey through the city's darkest and scariest alleys, with the tracks working like snapshots of specific moments. Incidentaly, the track 'City Alleys Host Murders' which comes around roughly at the middle of the album, is the key piece to this record, picking up the bits and pieces of all the moments and joining them together into a cohesive narrative. But there are other tracks that help turn 'London By Night' into a memorable experience. Two of them come to my mind: 'NW10 (featuring Pelbu)' sounds like a dubstep experience gone awry, with horror-movie-like piano instead of sub-bass notes but with a similar spoken word voice-over to finish it up in a great dramatic style. 'The Last Dance at the Ballroom' is also one of my favorites and finishes up 'oficcially' the record in amazing style, starting with some low-key bass notes and steadily growing into some kind of fucked up breakcore shit, dark noise and scary field recordings and at some point turning into the first bonus track. But it feels like a single track, actually. The 'unofficial' end track to this excellent and in every way unpredictable album comes with another bonus track 'The Singing Return of the Tower Keeper' which is really a very amusing and nicely done mashup of Alice Russel's 'Somebody's Gonna Love You'' with an assortment of different beat styles put together. A great ending to a really interesting album.» - Pedro Leitão



«They wonder why we're all the same
Too much blood, too much fear to say our name
One town to keep us all together
Children of the world, here we gather forever
LDN town my curse, I won't let it sink
One soul, one will, one tear without love
All straight up from the same hole.»

Excerpt from 'NW10 (feat. Pelbu)'


'|
---
October 22, 2007

DATA TRANSFER, PART DEUX

Just a quick note to let you know that our good friend and artist David Velez has released a new volume of the highly acclaimed Data Transfer series, this time on the excellent label EKO, curated by Alexandre Navarro.

Just go there and download your free copy while it's hot! And while you're at it, point your browser to Zymogen.net and get the first volume too.

This new volume features a handfull of new artists, along with a couple of one that were also featured in the first volume of the series. The names include: Karras, Christopher McFall, Sascha Neudeck, Pangea (Juan Antonio Nieto), e:4c (Hélder Vasconcelos, José Diogo Correia), Darren McClure, Kate Carr, Juan José Calarco, Fabian Moncada, Ben Owen, Gill Arno, Richard Garet, Andy Graydon.

Peace,

'|
---
October 17, 2007
DOUBLE SHOOTER!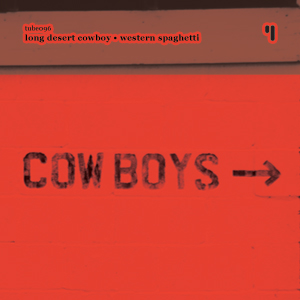 • tube'|096 - Long Desert Cowboy - Western Spaghetti

«The 'alentejano' Daniel Catarino has kept for his second volume as Long Desert Cowboy a not so guitar-based, less Ry Cooder-esque sound than what is explored in the first volume (curiously, it's this one who gets to be titled 'Western Spaghetti).
This is an album of shades, isolation, reflexion and patience, which bets higher in 'what isn't said' than in 'what is said'. It finds some parallel in the piece "Banda sonora para um dia normal", from Landfill, another moniker from Catarino, but in this case the emphasis isn't placed in the patchwork of contrasting elements, instead it's put in the building of impressionist exercises.
"For the Money", for instance, makes itself of unknown origin sounds from different planes, delay-soaked, accompanied with patient synthesizers. In "Kicking the Sand", a monastic voice waves above some bluesy guitars and what seems to be field recordings. As for "Tired of being fucking poor and honest", it's guitar ambient in shy levitation.
with or without its companion 'Sandshoes', 'Western Spaghetti' is an apropriate record for late night mental introspection.» - Pedro Rios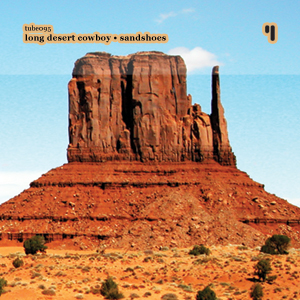 • tube'|095 - Long Desert Cowboy - Sandshoes

«"The times, they are a-changin'". The new musical outfit of Daniel Catarino (also known as Landfill) brings dust to our footsteps and its consequent footprints. It may not be deliberate but the first of the two volumes from this new adventure carries the smell and feel of Ry Cooder. Throughout its six chapters, Daniel Catarino builds a sand map, drawing richly detailed landscapes. Long Desert Cowboy is, so to speak, a landscape architect who respects the immediate in spite of the project at hand. In "Bee 7" he still walks in the land of dreams (crossed by messages from unidentified beings) and imagination, but from "$$$" onwards, Daniel Catarino puts his foot outside and delivers five moments of rare beauty: to that end he uses guitars in distant lands, keyboards and sounds snatched from real life. Here and from the beginning to the end of 'Sandshoes', this is the vision of deep western America from the perspective of a portuguese. A trip worth taking.» - André Gomes

'|
---
October 09, 2007
BRICOLAGE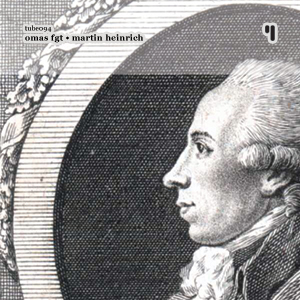 • tube'|094 - Omas FGT - Martin Heinrich

«Omas FGT is one of the heads behind french label Plex Records. Omas has released once on his own house (plx001), plus a couple of loose tracks and remixes on compilations throughout Plex's catalogue. Two years later and he has three other releases: 'Frequency Modulation', a five tracker on Telescope - built using only frequency modulation synthesis, and 'Silver Bullet' parts I and II on switzerland's Psycle records as a collaborative project between the two labels. Both released this year. I hear that 'Silver Bullet' has been highly acclaimed by electronic music fans.
'Martin Heinrich', named after the famous German chemist and professor, is no different from the usual Omas FGT style: Dark, echoing and rough on the edges IDM beats with a slight sense of melody and over-synthesised sound sources. This is a five tracker and spreads around 24 minutes with various edgy moods, some into beat deviations and others into more ambient surroundings, all to be filed under experimental. Enjoy!» - Pedro Leitão

'|
---
October 03, 2007
BRICOLAGE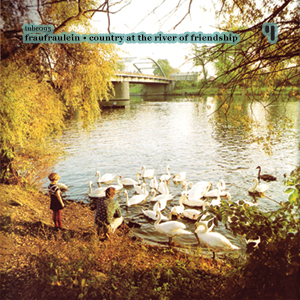 • tube'|093 - Fraufraulein - Country at the River of Friendship

«Today, test tube very proudly presents 'Country at the River of Friendship', an album by Fraufraulein. For me, this was one of the most anticipated releases of this year. Before presenting the duo that makes Fraufraulein what it is, I'll tell you how I came to know their music: Months ago, at the beginning of 2007, we accepted a submission by this new yorker guy named Billy Gomberg. When Billy gave me the url to his page at Fraufraulein's website I got curious, and became interested in knowing what Fraufraulein was all about. Right after listening to one of the pieces hosted there - actually, during listening - I became amazed and overwhelmed by the dramatic density that Fraufraulein's improvisations carry with them. I just felt and knew that more people had to get into this, so, I immediately contacted Billy and asked him if he wanted to do a Fraufraulein's release. I even made a pre-selection with a couple of pieces for a possible release. Billy liked the idea and went to contact Anne Guthrie - the second member of Fraufraulein's duo - to get her approval. Along with the pieces I chose, Anne and Billy threw in a couple more and remastered the set. The result of this is 'Country at the River of Friendship'.
Well, now you already know Billy from tube086, or at least you should because he has a very solid electro-acoustic release there. But Anne Guthrie is probably new to test tube fans, so a proper presentation is in order. I personally didn't knew anything about her, but a google search pointed me to the very respectful Stasisfield label, which incidentaly has a very good short bio of Anne. Here's a snippet taken from there: «Born 1983 Minneapolis, Minnesota. BA in English and a BMus in Composition, University of Iowa, May 2005. Studied French horn with Jeffrey Agrell, and Composition with Amelia Kaplan, David Gompper, and Lawrence Fritts. Studied composition with Michael Young at Goldsmith's college in London, Fall 2003. Currently, Anne is the Managing Director of the S.E.M. Ensemble in Brooklyn. (...) Anne's electronic works focus on field recordings that exploit the natural resonance of unique architectural spaces. These recordings are subject to light filtering processes to further emphasize the resonant frequencies of the space.» You can also find there her excellent release 'Conservatoire'.
So, then... what should we expect from a Fraufraulein's release? Short answer: Improvised Modern Contemporary Music. But there's more, of course. Anne and Billy - besides playing French Horn and Synthesizers, respectively their main instruments of choice - use dozens of instruments and various objects and sound sources which they gently manipulate and layer in blissfully resonant improvisations. Some of this instruments include: Harmonicas, Melodica, Knabe Upright Piano, Circuitbent Speak & Read, Electrix WarpFactory, Thumb Piano, Fluorescent Light, Electric Organ, Recorder, Flute, Snare Drum, Glass, Thread, Toy Piano, Bass Guitar, Acoustic Guitar and various microphones. That's a lot of different sounds to play with! Without further due, I'll let Fraufraulein's music speak for herself. Download this, pick yourself a good set of closed-casket headphones and enjoy.» - Pedro Leitão

'|
---
October 01, 2007

SEPTEMBER 4XT

As promised, here is the 4XT for the month of September:

#01 - tube088 - Thelmo Cristovam - Field Recordings #02 [1101 downloads]
#02 - tube090 - meta:Human - The Dark Ages of Technology [899 downloads]
#03 - tube089 - Clorofila Azul - Revisitado (sem Voz) [832 downloads]
#04 - tube082 - e:4c - Technical Unwanted Signals Vol. 1 [818 downloads]
#05 - tube080 - Post Human Era - Where I'm Going... [516 downloads]
#06 - tube071 - Penca Catalogue - This is Hair Care [420 downloads]
#07 - tube087 - Juan José Calarco - Plano Vertical [415 downloads]
#08 - tube092 - The Jack Bohlen Book Club - Lion & Lamb [390 downloads]
#09 - tube081 - Aitänna77 - Health Needs [356 downloads]
#10 - tube091 - Hugo Paquete - Commutative [317 downloads]

A few surprises here. The first one is #04 which is at the exactly same place as it was two months ago in the July 4XT. Another surprise comes in #06, because it's a release that is already pretty old when it comes to test tube's agenda. And another one comes in #08 because is a very fresh release - just one week old. Almost 400 downloads in a week it's very very good, even for September.
It's also interesting to see a raw field recording release in #01 with more than a thousand downloads, because Thelmo's release is usually filed under the 'non-music' style, a style not extremely popular, even among experimental/electro-acoustic music fans and explorers. I guess this is good news for Thelmo :)

Well, that's about it for now. See you in a month for another 4XT analysis.

Peace,

'|
---
top