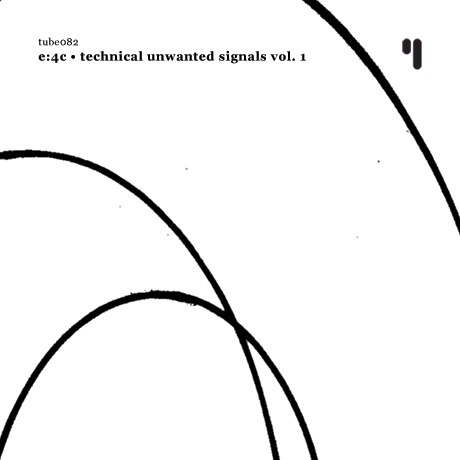 Runtime: 54'49''

«Compared to their first appearance on Test Tube, 'Documents', e:4c from Portugal have gone through considerable stylistic changes in their follow-up release "Technical Unwanted Signals Vol. 1": Not only is this release twice as long, but (contrary to what one might expect) their work is now characterised by brevity and focus on essential signals. The music as such remains experimental, but bleeps and blirps are now integrated in a minimalistic post processing style with vast dynamic changes, ambiguous harmonics and vaguely defined percussive structures. Fleeting impressions of unconsciousness characterise e:4c's research of the world from within.
Despite the impressing number of 22 tracks there's no doubt that what seems to be separated tracks are in fact facettes of an entire unit like scenes of a scifi movie (in this case). And so the mothership continues its journey into the unknown, bewildering, sometimes frightening, but also fascinating microworlds, that quickly rearrange themselves like patterns of a caleidoscope, just by the time the listener can get hold of them.» - Olliver Wichmann

Downloads:
[test tube opted for no individual track downloads of the 22 segments for practical reasons. please, download the whole package instead.]
• all tracks + artwork ................................................................
pt
us
Zip • 123,0Mb]
Reviews:

«Mais e:4c...mais Hélder Vasconcelos e José Diogo Correia...
Depois de um ano de 2006 bem agitado, com o lançamento de "Documents" pela Test Tube e "Data Platform" pela Enough Records, chega-nos agora "Technical Unwanted Signals Vol. 1", registo novamente com selo da netlabel Test Tube. Ao todo são 22 faixas de um trabalho minucioso de pura electrónica, ambiental, sempre experimental, testando neste curtos e rápidos momentos de vibração sonora. O espaço...tudo.
Indubitavelmente, interessante!»
- Rui Dinis [A Trompa] / July 12, 2007

«Amazing! But i'm not surprised because i know that everything these guys do has a '100% quality print' on it! Keep up the Good work!»
- Gisco [EARLabs] / July 11, 2007

---
Player:
Get the Flash Player to see this player.
---
Copyleft:



cover:
©2007 aeriolabehaviour
music:
©2005 H.Vasconcelos & J.Correia
©2007 test tube



This work is licensed under a
Creative Commons License.

---
How to download music tracks:

• right click the individual links to the files;
• choose 'save as' and point it to the place of your preference (eg: your 'desktop');
• single click usually works, too.
---
How to play music tracks:



• choose an appropriate mp3/ogg player (we recommend Winamp) and install it on your system;
• usually, you double click the music files to play them, but you might want to follow the program's specific instructions.