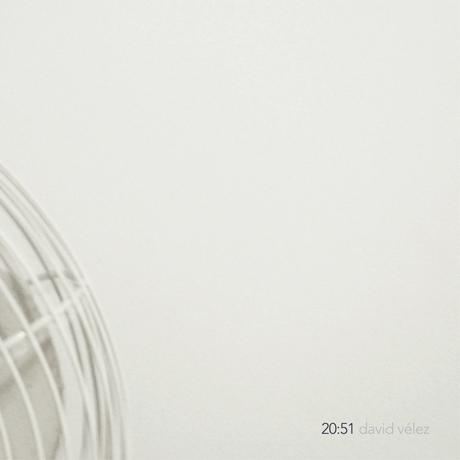 Runtime: 20'51''

«'20:51' is the first release in a new series here at test tube. David challenged me several months ago in doing some kind of book release, and then I though to myself: 'why not starting a new mixed-media series of work?'. The idea started to materialize slowly and now we proudly present this new work from David Vélez.
In the future, expect a different kind of mixed-media works: text and audio, video and text, audio and video, audio and photo, etc. We want that artists feel completely free in aesthetics and form. This is their naked canvas here at test tube.» - Pedro Leitão

«'20:51' is a publication composed of 1) a series of photographs I took and put together as a PDF publication, and 2) a sound piece titled 'Polvo'. This is the first sound work I finish and publish in almost 9 months, a period where I looked around for inspiration and slowed down.
The word 'Polvo' in spanish means 'Dust' but also refers to the sexual act of reproduction: the origin of this meaning is unclear.

Celebrities like Woddy Allen, God, John Lennon, David Bowie and even Pablo Picasso have used the word 'Polvo'/'Dust' on their creations and/or on their quotes and titles.

"...quia pulvis es, et in pulverem reverteris... ".

("...for dust you are, and to dust shall you return...").

...is a quote taken from Genesis 3:19 in the Bible. Some intellectuals claim that this Bible quote is the origin of the use of the word 'Polvo' to refer to the sexual act.
The cyclic and finite/infinite notion that are found on the use of the word 'Polvo' are quite inspiring and probably influenced the way the piece sounds and feels, since the title 'Polvo' was assigned to the piece before I composed it.
Dust was here before us, dust will remain here after us. That fact makes everything else simple, ephemeral and harmless.

There is not a manifest connection between the piece and the photos.»
- David Vélez

Downloads:
01
• 20:51 .ZIP package (PDF file + Audio tracks) ............................
pt
us
[Zip • 48,2Mb]
Reviews:

«This is a delicious immersion into wonderful darkened depths. So well sculpted and taking you in directions you'd never expect - just at the moment that you're thinking that the drones and watery sounds will keeps shimmering and subtly changing, the piece will take a sudden turn. About two thirds through a chord sound leaps out at you, bringing your attention back to the music, and then that sound and variations are explored with more movement and power until the end. And the set of photos make a nice complement to the sounds - stark, evocative images. Overall a slick piece of work.»
- Sean Monaghan/Venus Vulture [EARLabs] / June 19, 2008
---
Copyleft:



pdf design:
©2008 Grindcore Gourmet
audio:
©2008 David Vélez
complete work:
©2008 David Vélez/test tube



This work is licensed under a
Creative Commons License.

---
How to download music tracks:

• right click the individual links to the files;
• choose 'save as' and point it to the place of your preference (eg: your 'desktop');
• single click usually works, too.
---
How to play music tracks:



• choose an appropriate mp3/ogg player (we recommend Winamp) and install it on your system;
• usually, you double click the music files to play them, but you might want to follow the program's specific instructions.