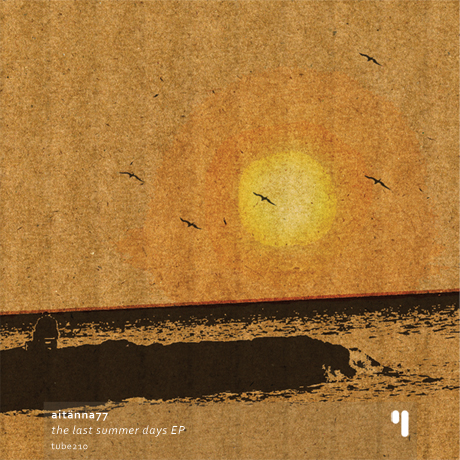 Runtime: 17'27''

«It is hard to believe that it was almost three years ago that we saw the last release from our dear friend Mikel Martínez, titled 'Health Needs', a concept album about a fictional life/death situation. And before that, more than five years ago, test tube was graced at the very beginnings of its existance with the short EP 'Spring is coming soon EP', which gathered some very nice words about it at the time, like for instance: '(...) a truly superb mix of acoustic and electric elements, with all the elegance of classic minimalism and all the presence of an early-1970s singer-songwriter album.' - Marc Weidenbaum dixit.

Enter his new EP, 'The Last Summer Days', another 4 tracker like the first one, equally absorbing, equally delicate and dreamy, but with a couple of differences of note. Mikel matured his sound enough, to the point that it can now acommodate his shy singing. Aitänna77 is now, at last, a complete 'singer slash songwriter' musical project, which he seemed to sought after when he started it.
Fans of the 'old' Aitänna77 should rejoice, and fans of the new should also love the old, because it is the same... it's everything there, still... and moving. New and beautiful songs (and a Codeine cover), the same awkward but rightly placed instruments, the same minimalistic scores and arrangements and that same seemingly out-of-place nostalgia we learned to love, that keeps us from getting grounded to a particular moment in time. 'Tarde o Temprano' feels like watching 'Verano Azul' twenty-five years later (only our spanish readers will understand this, sorry.). Such a perfect little gem!

I was really in the need for something like this. Thank you, Mikel.» - Pedro Leitão
Downloads:
01
• Amnesia ..................................................................................
pt
us
[4'07'' • 7,94Mb • 256Kbps]
02
• The Last Summer Days ...........................................................
pt
us
[3'28'' • 6,78Mb • 256Kbps]
03
• Tarde o Temprano ..................................................................
pt
us
[2'08'' • 4,32Mb • 256Kbps]
04
• Broken-Hearted Wine .............................................................
pt
us
[5'10'' • 9,89Mb • 256Kbps]
• artwork ...................................................................................
pt
us
[PDF-Zip • 4,77Mb]
• all tracks + artwork ................................................................
pt
us
[Zip • 33,3Mb]
Reviews:

«Ca fait rudement plaisir de retrouver Aitänna77, même pour 4 titres et 15 minutes, tant cet espagnol a su par le passé nous captiver et nous enchanter avec ses production folktronica lo-fi parues chez Test Tube ("Health Needs") ou encore chez Error! Lo-fi ("Buenas son tortas"). C'est chez les portugais qu'il revient encore une fois avec une musique toujours aussi naïve et mélancolique, solaire et légère à la fois, dans laquelle il use une fois encore de tous ses instruments de poche pour nous concocter des chansonnettes pleine de poésie et de douceur. Et on en redemande! [7.5/10]»
- Netlabels Revue / July 30, 2010

«What a difference five years make. Back in 2005, Spanish musician Mikel Martínez released Spring Is Coming Soon, under the name Aitänna77. The album was a delirious little seasonal daydream — at the time I noted its unique intersection: "all the elegance of classic minimalism and all the presence of an early-1970s singer-songwriter album." Come 2010, there's a new Aitänna77 EP, titled The Last Summer Days, and the songwriter in Martínez has largely trumped the minimalist. Three of the EP's four songs are just that: proper, if willfully inexpertly performed, songs, dense with folk-rock haze and sung in a voice with quavering hesitance. The title track has a vocal, but it's sparse and buried — the extent to which it is echoed could easily be described as wild, but in fact it's mellow to the core, just one more element in the rapturous production miasma. From the opening bristle, a children's toy by all appearance, "The Last Summer Days" is an ecstatic exercise in lushness for lushness's sake — a lushness that prevails because of, not in spite of, its lo-fi-ness.»
- Marc Weidenbaum [Disquiet] / June 23, 2010

«There are not that many artists out there, that have been creating their own trademark sound as successfully as Mikel Martínez aka Aitänna77 did: Combining all kinds of acoustic instruments and toys like the guitar, melodica, carillon and even the ukulele with digital devices and sounds, he brings back the warmth of traditional songwriting to fasten it onto a carefully mounted grid of minimal electronic beats and low-key sounds.

On his latest EP "The Last Summer Days" Mikel takes another step in his natural evolution and turns Aitänna77 into a fully developed singer-songwriter project by singing his own lyrics, which he rarely did before. Granted, he might not have the greatest voice you ever heard in this whole universe (and he doesn't pretend to!), but it proves to be the perfect companion for this melancholic trip into feelings of delightful gravity and tender sweetness. And more than ever he remembers his acoustic background, which marginalizes the electronic gadets this time and paints Martínez' reflections even more in warm, glowing colours.

"The Last Summer Days" is likeably unperfect, lo-fi and pure. Four nice songs. Not more. But nothing less.»
- Thomas Raukamp [Thomas' Posterous] / June 21, 2010

«The Last Summer Days is a great little lo-fi, indie EP. Some of it reminds me of the Jesus and Mary Chain's album Darklands, or maybe even some of Opal's recordings, in the way it focuses more on atmosphere and mood than it does on complex compositions. It's dreamy and pretty, but not overly twee or precious, playful but overly coy and saccharine.»
- D. Davis / June 06, 2010
---
Player:
Get the Flash Player to see this player.
---
Copyleft:



cover:
©2009 Mikel Martínez
©2010 aeriola::behaviour
music:
©2009 Mikel Martínez
©2010 test tube



This work is licensed under a
Creative Commons License.

---
How to download music tracks:

• right click the individual links to the files;
• choose 'save as' and point it to the place of your preference (eg: your 'desktop');
• single click usually works, too.
---
How to play music tracks:



• choose an appropriate mp3/ogg player (we recommend Winamp) and install it on your system;
• usually, you double click the music files to play them, but you might want to follow the program's specific instructions.