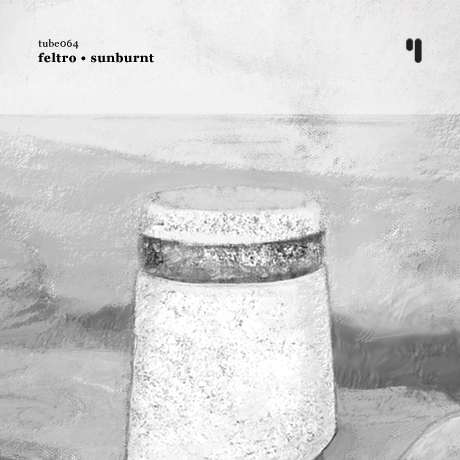 Runtime: 23'59''

«Feltro is yet another moniker for young portuguese artist André Gonçalves, known under his real name for a multitude of works in various media (painting, video, performance, music, installation) and also known under the Ok.suitcase alias for a number of releases on Crónica Electrónica, Sirr.Records and other labels, since early 2001.
Feltro is another step forward in computer music composition by this talented artist, with this 'Sunburnt' release which comes in two different dosages: 'The Longing', a 20 minute long piece and its 'Radio edit', trimmed down to little over 4 minutes. 'The Longing' is an emotional computer song, possibly about missing someone. It starts with a synth hum and grows from there, leaving André filling it up with granularity and randomized sound processing effects, singing all the way into a sad oblivion. Reminds me of some works by Akira Rabelais and also of Oren Ambarchi pieces. The radio edit version is like a 'portable' version of the main piece, suitable for radio play (of course) but best used as an unexpected twist in someone's ipod playlist.» - Pedro Leitão
Downloads:
01
• The Longing ............................................................................
pt
us
[19'44'' • 45,1Mb • 320Kbps]
02
• The Longing (radio edit) .........................................................
pt
us
[4'15'' • 9,74Mb • 320Kbps]
• artwork ...................................................................................
pt
us
[PDF-Zip • 3,03Mb]
• all tracks + artwork ................................................................
pt
us
[Zip • 57,4Mb]
Reviews:

«The Longing starts shy and noisy, like a fragmented object missing parts, that slowly appear. After some minutes the piece begin to acquire a more defined shape, very detailed and fluent.
Through the middle a bass drone enters the piece like if it has acquired some kind of depth after a long growing up period.
The piece gains sonority and momentum as more elements begin to surround and complement the original shape.
Finally, like an air trip, the plane begins to descend, the piece becomes more simple and subtle, not fragmented but layered.
The end of The Longing goes through turbulence, the big burst before the final moment...
More than an air trip, The Longing is a lifetime, a process of creation, growth, decaying and finale.
Indeed a great release that I advice to download.»
- David Velez [EARLabs] / February, 2007

«Une longue pièce de presque 20 minutes et puis c'est tout? Non! Ce serait trop simple. Feltro, ce n'est pas tout. C'est, et je pèse mes mots, une belle virée en amertume, en actions manquées, en situations qu'on aimerait voir se profiler et qui tombent comme des feuilles plombées. Feltro, c'est un drôle de moment, tout fait de cassures, d'arythmies et de plages asséchées. Etonnant et plaisant...»
- LaFresto / February 02, 2007

«É a novíssima edição Test Tube...
Agora é Feltro, a outra máscara de André Gonçalves, também conhecido por Ok.Suitcase, aqui, num documento sonoro de quase 20 minutos entitulado "The Longing" - inclui ainda uma radio edit do mesmo tema com pouco mais de 4 minutos. Parido directamente da sua maquina - naturalmente, "The Longing" absorve desde logo todo o espectro visível, adensando o ambiente com a sua crescente intensidade e panóplia de efeitos sonoros... efeitos noise.
Novas experiências, com Feltro; aconselha-se.»
- Rui Dinis [A Trompa] / January 31, 2007
---
Player:
Get the Flash Player to see this player.
---
Copyleft:



cover:
©2007 Ricardo Pacheco
©2007 aeriola::behaviour
music:
©2006 André Gonçalves
©2007 test tube



This work is licensed under a
Creative Commons License.
---
How to download music tracks:

• right click the individual links to the files;
• choose 'save as' and point it to the place of your preference (eg: your 'desktop');
• single click usually works, too.
---
How to play music tracks:



• choose an appropriate mp3/ogg player (we recommend Winamp) and install it on your system;
• usually, you double click the music files to play them, but you might want to follow the program's specific instructions.