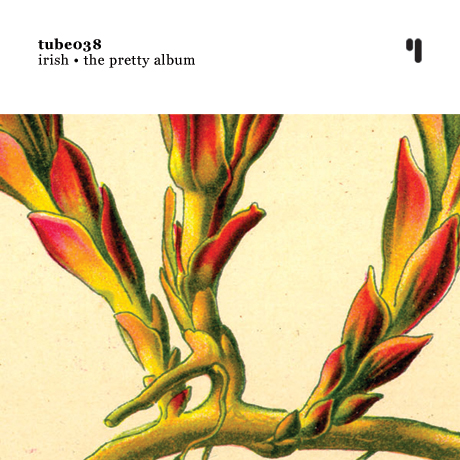 Runtime: 18'25''

«Maybe you remember irish from one of our first releases, tube008. More than a year ago, we wrote: «irish's Understandings is a beautiful EP that sets the melancholic tone right from the beginning». Well, we can easily pick up where we left. irish's tone is still sad and melancholic much like it was months ago, but he has developed his style since then. He has cleaned up his sound a little and invited two of his friends to sing for this release.
'The Man of Dead Letters', featuring singer Mississippi Sunburst, is a childish-like song, with english male lyrics over a slow and heavy bass beat, soft keyboard drones and an insistent, deliberately untuned guitar. A mellow start for a 'Pretty Album'.
'Rave at Mt. Eboshi' is the first of the two instrumental pieces. Its strong IDM architecture pushes up the beat some notches and adds some cut-and-paste voice sampling for a great Sheffield feel. Did you mentioned 'Old School' and 'Warp' in the same sentence? Yep, rightly so.
'Theme of Emi', featuring japanese artist Tsurutin, is a beautiful little jewell to keep next to the heart. It balances some sweet girly lyrics - spoken in japanese - adorned by some really sad keyboards with more classic, dissonant and round IDM beats, to create a distant nostalgic effect. really special, this one.
'Curtain call for The Man', the last instrumental piece, closes this release with a nice touch: A kind of a lo-fi hip hop tune, with bubbling effects, lots of vinyl scratchin' and a weeping cello. Priceless stuff.» - Pedro Leitão
Downloads:
01
• The Man of Dead Letters (feat. Mississippi Sunburst) ............
pt
us
[2'57'' • 4,10Mb • VBR]
02
• Rave at Mt. Eboshi ..................................................................
pt
us
[5'53'' • 8,30Mb • VBR]
03
• Theme of Emi (feat. Tsurutin) ...............................................
pt
us
[3'17'' • 4,66Mb • VBR]
04
• Curtain call for The Man ........................................................
pt
us
[6'18'' • 9,70Mb • VBR]
• artwork ...................................................................................
pt
us
[PDF-Zip • 2,49Mb]
• all tracks + artwork ................................................................
pt
us
[Zip • 27,7Mb]
Reviews:

«irish "The Pretty Album" is indeed very pretty and also timeless. This record brings out the roots for today music (idm-hip hop) and mix them with some pop like sweet elements. This is a one of a kind record, very interesting mainly the closing track "curtain call for the man". Really worthy to check out.»
- Lezrod [EARLabs] / March 24, 2006

«C'est la deuxième sortie d'Irish sur Test Tube. La première ('|008) était tout simplement magnifique et minimale. On retrouve donc une nouvelle fois toute la magie d'Irie Yoshihisa dans ces quatre morceaux. C'est toujours aussi minimal. Mais, il me semble que la mélodie s'est installée dans les compositions du Nippon avec plus d'insistance. La mélodie et une certaine naïveté lumineuse (Theme of Emi). Il est vraiment plaisant de se laisser aller parfois.»
- Lafresto / March 21, 2006

«A little more than one year after the brilliant "Understandings" and its very addictive track 'coma and pray', here it is the new and "pretty" release of Irish (aka Irie Yoshihisa) for the very advised netlabel TestTube.
"The pretty album", 4 pieces of reminiscence of childhood, of dreamed nostalgia, but also, and sometimes of broken toys.
'The Man of Dead Letters' which opens the album, offers to us the fragmented voice of the Mississippi Sunburst on an improbable melody and a delicate building which seems quite fragile, but does not collapse.
Then, Irish invites us to leave for a rave on the Eboshi Mount, erratic and distant of last rejoicings or to come? temptation is strong to succumb to this groove spectral, but reserve is too large. The building, again, seems close to tremble.
From more traditional scheme is "Theme of Emi" which gives us to appreciate the voice of Tsurutin, whispering us some soft and secret recommendations.
The album ends on, which certainly, will become one of the tracks the most addictive of this spring 2006: 'Curtain call for The Man', and please take attention, cause Irish is intended there to ignite the old stories and to project them with ease with our appreciation, such an unforgettable savour impossible to circumvent.»
- Thierry Massard / March 19, 2006
---
Player:
Get the Flash Player to see this player.
---
Copyleft:



cover:
©1885 - 1905 Dr. Otto Wilhelm Thomé
©2006 aeriola::behaviour
music:
©2005 Irie Yoshihisa
©2006 test tube



This work is licensed under a
Creative Commons License.

---
How to download music tracks:

• right click the individual links to the files;
• choose 'save as' and point it to the place of your preference (eg: your 'desktop');
• single click usually works, too.
---
How to play music tracks:



• choose an appropriate mp3/ogg player (we recommend Winamp) and install it on your system;
• usually, you double click the music files to play them, but you might want to follow the program's specific instructions.