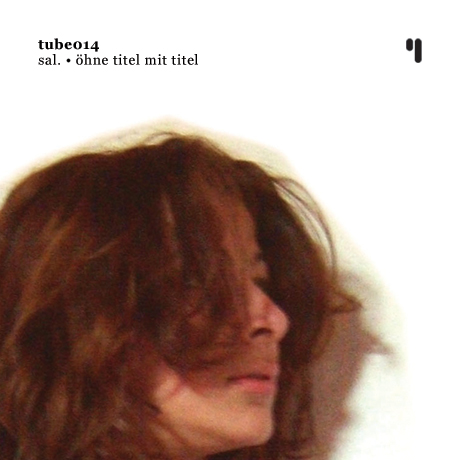 Runtime: 30'23''

«sal. is a bit of a multi-talented artist. He does photography, new media, mixed media, he runs a multi-cultural venue called ovírus (the virus) with a group of friends, and of course, he makes his own music (most people do it in these days...). But not any kind of easy, unsuspected or familiar music, like garage pop-rock, hip hop, techno or whatever. sal. makes pure noise music, also called 'white noise', based on static electricity fluctuations and stuff. I really don't know how he makes it, but he knows how to make it. And it hurts. It hurts a lot. His music hits you so hard, that you'll feel like you've been run over by a train.
Now... I could write some lines here, about Merzbow, Ryoji Ikeda and maybe Scanner and others, and how sal.'s music picks references from each one of them, etc. It would be rather pointless, because although most Noise and White Noise music has a solid structure, usually we get carried away by the violence of its sound and we tend to overlook those basic structure references and movement sways, and hidden patterns, hence, any reference to this work or that artist wouldn't do much for you, dear reader, just listen to the damn thing.

SOME IMPORTANT NOTES BEFORE TAKING THIS EXPERIENCE:

'Öhne Titel Mit Titel' needs you to be fully awake, with your mind and ears set to 'i don't know what the hell i'm going to listen to but i don't fucking care anyway' mode, to be completely and truly... ahem... enjoyed.
Also, you wouldn't want to listen to this with your stomach empty. Have a snack a couple of minutes before, or something like that. Some tea would be nice, too.
Lie down on your bed or sofa. We want you to be at your most comfortable position. Don't even think about taking this out to the street. And please, try this first with your volume set to low, then gradually upping it until it reaches the borders of pain. You're set to go.» - Pedro Leitão
Downloads:
01
• Parte Primeira ........................................................................
pt
us
[11'34'' • 15,9Mb • 192Kbps]
02
• Compreendo perfeitamente a tua estupidez. .........................
pt
us
[7'03'' • 9,70Mb • 192Kbps]
03
• wwwwwwwwwwwwwwwww ......................................................
pt
us
[5'01''' • 6,91Mb • 192Kbps]
04
• Compreendo perfeitamente a tua necessidade. .....................
pt
us
[3'24''' • 4,68Mb • 192Kbps]
05
• Compreendo perfeitamente porque é que é redondo. .............
pt
us
[3'21''' • 4,62Mb • 192Kbps]
• artwork ...................................................................................
pt
us
[PDF-Zip • 1,56Mb]
• all tracks + artwork ................................................................
pt
us
[Zip • 41,1Mb]
Reviews:

«The new album from Sal., 'Öhne Titel Mit Titel', now downloadable from the Test Tube netlabel, will appeal mostly to veteran noise fans, but there are nods to a more general audience. While three tracks are about as pleasurable as the wind breaking against a cheap microphone during an ill-fated field-recording trip to the shore ("Compreendo perfeitamente a tua estupidez.", "Compreendo perfeitamente a tua necessidade.", "Compreendo perfeitamente porque e que e redondo."), the irritants here can become attractors. In particular, "wwwwwwwwwwwwwwwww" (yes, that's the title) is far more complex than it initially appears, a fevered rash of conflicting cogs banging against each other, spitting up tiny, high-pitched sparks. For most listeners, though, the one real keeper is "Parte Primeira," which opens with a pleasurable rhythmic lope and hints at the fire of feedback, and then evolves through an exploration of murkiness, before splintering into a wash of sine waves and white noise.»
- Disquiet / May 05, 2005

«Bon, les choses se compliquent... Le label portugais Test Tube nous habituait dernièrement à des sorties sucrées aux envolées douces, parfois amères, aux pulsions printanières bien agréables. Avec Sol., la quatorzième référence du
netlabel, on fait un tour dans le côté obscur de la force ! Point de mélodies ou d'arrangements ! Des structures ? On ne saura vraiment ! Ce qui surprend dans un premier temps, c'est la pochette, la première réellement identifiable
depuis le lancement du label : une femme. Ensuite, Test Tube met en garde l'auditeur contre les nuisances que l'écoute répétée de cet album pourrait produire... C'est intriguant tout de même cette histoire de mise en garde.
Alors, on se prend à baisser le volume du lecteur, on met le casque en se disant qu'on commet peut-être une erreur, on se racle la gorge, reprenant sa respiration et c'est parti ! Ce n'est finalement pas si violent que craint.
Certes, la recherche d'une branche à laquelle on peut s'accrocher restera vaine. C'est plus sensitif qu'émotionnel, plus radical qu'expérimental. Alors, je ne saurais dire si Sal. raconte quelque chose, si sa musique est une expérience plus pour lui que pour celui qui l'écoute. Je me souviens avoir écouté un album entier de MLHST dans les années 90, plus pour me dire "Je connais ce genre musical désormais" que pour le placer au panthéon de la créativité. Car c'est toujours le même problème avec le bruitisme, on s'éloigne généralement de l'essentiel et on a plus l'impression d'entrer dans un monde fermé qu'autre chose. Dire que c'est un monde élitiste serait, je pense, trop simple.»
- LaFresto / April 27, 2005

«Nova saída na Test Tube: sal. 'Öhne Titel Mit Titel'. Que é como quem diz, com e sem título. O corpo sonoro ora suspenso, ora em movimento estratificado, articulado pelas modulações, camadas sobrepostas numa torrente de chuva electrónica que desafia as capacidades do ouvinte e se torna difícil de aplacar. Um trabalho bem estruturado e surpreendente sobre modulações de electricidade estática - o também chamado white noise - que resulta em pleno. Branco é, sal. o põe. Brutal, insano e extremo, mas consequente. Fura fundo até ao limiar da inconsciência.»
- Eduardo Chagas / April 25, 2005
---
Player:
Get the Flash Player to see this player.
---
Copyleft:



cover:
©2004 sal.
©2005 aeriola::behaviour
music:
©2005 sal.
©2005 test tube



This work is licensed under a
Creative Commons License.

---
How to download music tracks:

• right click the individual links to the files;
• choose 'save as' and point it to the place of your preference (eg: your 'desktop');
• single click usually works, too.
---
How to play music tracks:



• choose an appropriate mp3/ogg player (we recommend Winamp) and install it on your system;
• usually, you double click the music files to play them, but you might want to follow the program's specific instructions.